Issuing Company: Unknown - Dutch Gum Card
Country of Issue: Sweden
Year of Issue: 1966-68
Color/B&W: Color
Number of Cards in Set: 310
Card Size: 1 3/4" x 2 11/16"
Issued as insert with what product:
Notes: Blank-backed, no company name listed. This is a group of multiple anonymous related sets without numbering. I gave it the name "Dutch Unnumbered Set 3" to distinguish it from other similar anonymous sets - the cards do not say Set 3 on them. This set features mostly music stars, but there are some actors in there too.
This is a fairly complicated group of sets, since there is no numbering and there are numerous cards showing the same subjects. The easiest way to collect them is probably to ignore the differences in the individual groups and just go after all the cards or the cards of interest. Though there are 310 cards in total, they were not all issued together, they were issued in smaller groups. There are three main groups of cards as follows:
Group 1: Serif font used (45 cards)
Group 2: Font size slightly larger (95 cards)
Group 3: Font size slightly smaller (170 cards)

Group 3 can probably be broken down further. I have seen lists that break down Group 3 into three groups. I'm not going to show that breakdown here as I am not convinced it was that simple. I've spent a good deal of time (too much, probably!) looking at the fonts used in Group 3. There are some differences between the cards. In particular, the letters "a", "t", and "y" can be found with a curl on the bottom or straight on the bottom. But most of the letters look pretty much the same for all the cards.
It would seem like the cards with the curl would have all been issued together and the cards without the curl would have all been issued together, but that theory falls apart when considering some cards that have been seen from unopened packs. I have seen groups of cards with both font styles coming from the same packs of green TV67 Popbilder cards. Collector Barry Beckett has seen the same thing in unopened packs he has examined.
The packs themselves help a little but don't explain the breakdown completely. There are similarly designed packs found for these cards as follows:
TV66 Popbilder (black)
TV67 Popbilder (green)
TV68 Popbilder (orange)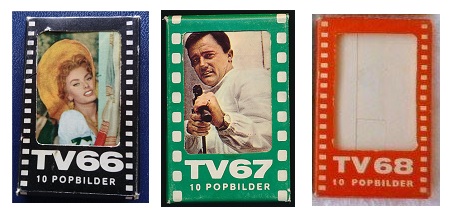 In the black TV66 example shown, the Sophia Loren card from Group 2 is peeking through and in the green TV67 pack, the Robert Vaughn Man from Uncle card from Group 3 is peeking through. There may be additional packets used for cards from this set.
For the Group 3 cards, there were undoubtedly new cards issued as the promotion continued along. For example, the Paul-George and Ringo-John cards were part of a group of cards that were probably issued in the TV68 packets only. Barry Beckett notes that he has seen earlier cards from Group 3 also come out of the TV68 packs so those probably had a mixture of cards.
The checklist below is listed in alphabetical order by the first word listed. This is because this set is a mixture of real people's names, character names, and band names. It is easier to keep things straight by listing them this way (though this does lead to some bands being listed in two places when some cards show the band with a "The" in front of the name and some without). I am also showing a picture checklist of this set to make it easier to see exactly the cards in this set, since there are multiple cards with the same caption in this set and other similar sets around. Click the picture above to see the picture checklist.
Thanks to Barry Beckett for providing a lot of help with this checklist.
---
Checklist of all Unnumbered Set 3 cards from all groups
Adam
Anders Töpel
Annaabee-Nox
Annaabee-Nox
Ann-Margret
Ann-Margret – Pat Boone
Batman
Beach Boys
Beach Boys
Ben
Benny – Svenne
Benny o Svenne
Berry and Paul Ryan
Bill Wyman
Bill Wyman
Bob Dylan
Bootjacks
Brian Jones
Brian Jones
Brigitte Bardot
Brigitte Bardot
Cartwrights
Cassius Clay
Charlie Watts
Charlie Watts
Cher
Chris Andrews
Cilla Black
Claudia Cardinale
Cliff Richard
Cliff Richard
Cliff Richard
Danne Larsson – Tages
Dave Berry
Dave Clark
Dave Clark Five
Dave Davies
Dave Dee, Dozy, Beaky, Mick o Tick
Dave Dee, Dozy, Beaky, Mick o Tich
David i TV-serien U.N.C.L.E.
Dee-Jays
Donovan
Donovan
Donovan
Donovan
Donovan
Donovan
Doris Day
Dusty Springfield
Elvis Presley
Elvis Presley
Elvis Presley
Elvis Presley
Elvis Presley
Elvis Presley
Elvis Presley
Elvis Presley
Elvis Presley
Elvis – Priscilla
Fabulous Four
Family Four »RCA«
Fantomen
Fantomen
Flipper
Föl
Föl
Fox-Terrier
France Gall
Freddie and The Dreamers
Freddie Skantze
Friends
Gary – The Walker Brothers
George
George o Pattie
Georgie Fame
Gina Lollobrigida
Gitte
Gitte-Rex Gildo
Gonks
Gonks
Göran Lagerberg – Tages
Graham Nash – The Hollies
Hep Stars
Hep Stars
Hep Stars
Hepstars
Hepstars
Hepstars
Hepstars
Herman
Herman
Herman
Herman´s Hermits
Hi-Balls
Hootenanny Singers "Polar"
Hootenanny Singers »Polar«
Hootenanny Singers
Hoss
Hounds
James Bond
James Bond
James Bond
Jimi Hendrix Experience
Joan Baez
John
John – The Walker Brothers
John Lennon
Jokkmokks Jokke »KARUSELL«
Jörgen – Lollipops
Keith Moon
Keith Richard
Keith Richard
Kinks
Lassie
Lassie – Jeff
Lee Majors
Leekings
Lennart – Svante i Shanes
Lill Babs
Lill Babs "Karusell"
Little Joe
Lollipops
Los Comancheros
Lovin´ Spoonful
Manfred Mann
Manfred Mann
Marianne Faithfull
Mascots
Mascots
Mascots
Mats Olin
Mick Adory
Mick Jagger
Mick Jagger
Mick Jagger
Millie
Nancy Sinatra
Ola & Janglers
Ola & Janglers
Ola Håkansson
Ola Hammarlund
P.J. Proby
P.J. Proby
P.J. Proby
Panthers
Paul
Paul
Paul – George
Paul – Lollipops
Pekka Langer
Peter and Gordon
Peter Belli
Peter Belli & Les Rivals
Peter Quaife
Pinkerton´s Assorted Colours
Plommons
Polly
Pudlar
Pussi-cats
Pussy – Cats
Ray Davies
Ringo
Ringo
Ringo
Ringo – John
Rin-tin-tin
Robert Fuller
Robert i TV-serien U.N.C.L.E.
Robert o David i U.N.C.L.E.
Roger Moore
Roy
Roy
Sandie Shaw
Scott- The Walker Brothers
Shakers
Shanes
Siw Malmkvist
Small Faces
Sonny & Cher
Sonny and Cher
Sonny and Cher
Sonny and Cher
Sonny and Cher
Sophia Loren
Spencer Davis Group
Spencer Davis Group
Spotnicks
Stålmannen
Stålpojken
Sten & Stanley »Decca«
Stoke Sect
Strangers
Svenne
Svenne – Hep Stars
Sven-Erik Magnusson
Sven-Erik Magnusson
Sven Ingvars
Sven-Ingvars »SAEP«
Tages
Tages
Tages
Tages
Tages
Tages
Tages
The Animals
The Animals
The Animals
The Beach Boys
The Beatles
The Beatles
The Beatles
The Beatles
The Beatles
The Beatles
The Beatles
The Beatles
The Beatles
The Beatles
The Beatles
The Beatles
The Beatles
The Beatles
The Birds
The Byrds
The Defenders
The Downliners Sects
The Fortunes
The Hepstars
The Hollies
The Hollies
The Hollies
The Jardbirds
The Kinks
The Kinks
The Kinks
The Kinks
The Kinks
The Lollipops
The Lollipops
The Lollipops
The Lollipops
The Lollipops
The Lollipops
The Lollipops
The Lollipops
The Lollipops
The Lovin' Spoonful
The Mama´s and The Papa´s
The Mascots
The Merseybeats
The Mindbenders
The Moonlighters
The Namelosers
The Nursery Rhymes
The Overlanders
The Pretty Things
The Pretty Things
The Rocking Ghosts
The Rolling Stones
The Rolling Stones
The Rolling Stones
The Rolling Stones
The Rolling Stones
The Rolling Stones
The Rolling Stones
The Rolling Stones
The Rolling Stones
The Rolling Stones
The Rolling Stones
The Rolling Stones
The Rolling Stones
The Rolling Stones
The Searchers
The Seekers
The Shadows
The Shadows
The Shanes
The Small Faces
The Small Faces
The Small Faces
The Supremes
The Swinging Blue Jeans
The Tremeloes
The Troggs
The Troggs
The Troggs
The Troggs
The Walker Brothers
The Walker Brothers
The Walker Brothers
The Who
The Who
The Who
The Who
The Yardbirds
Thor-Erik – Tommy i Shanes
Tom Jones
Tommy Blom
Tommy Blom
Tommy Blom
Tommy Blom
Tommy Blom – Tages
Torben – Lollipops
Unit 4 + 2
Velvet o hennes häst
We Four
Winnetou
Winnetou-Old Shatterhand
Winnetou-Versini-Old Shatterhand

Unnumbered Set 3 Group 1 Checklist
Anders Töpel
Bill Wyman
Brian Jones
Charlie Watts
Donovan
Donovan
Elvis Presley
Elvis Presley
Flipper
Föl
Föl
Fox-Terrier
France Gall
Hepstars
Hepstars
James Bond
Keith Richard
Lill Babs "Karusell"
Mick Jagger
Paul
Peter Belli
Peter Belli & Les Rivals
Polly
Pudlar
Pussi-cats
Rin-tin-tin
Roger Moore
Roy
Roy
Siw Malmkvist
Tages
Tages
The Beach Boys
The Beatles
The Defenders
The Jardbirds
The Lollipops
The Pretty Things
The Rocking Ghosts
The Rolling Stones
The Rolling Stones
Tommy Blom
Velvet o hennes häst
Winnetou-Old Shatterhand
Winnetou-Versini-Old Shatterhand

Unnumbered Set 3 Group 2 Checklist
Adam
Ann-Margret
Ann-Margret – Pat Boone
Ben
Bootjacks
Brigitte Bardot
Brigitte Bardot
Cartwrights
Cilla Black
Claudia Cardinale
Cliff Richard
Cliff Richard
Danne Larsson – Tages
Dave Clark
Dave Clark Five
Donovan
Doris Day
Elvis Presley
Elvis Presley
Elvis Presley
Freddie Skantze
Georgie Fame
Gina Lollobrigida
Gitte-Rex Gildo
Gonks
Göran Lagerberg – Tages
Herman
Hoss
James Bond
John
Jörgen – Lollipops
Lassie
Lassie – Jeff
Lill Babs
Little Joe
Manfred Mann
Mick Jagger
Millie
P.J. Proby
P.J. Proby
P.J. Proby
Paul
Paul – Lollipops
Pussy – Cats
Ringo
Ringo
Ringo
Sandie Shaw
Sonny and Cher
Sophia Loren
Sven Ingvars
Sven-Erik Magnusson
Tages
Tages
The Animals
The Animals
The Beatles
The Beatles
The Beatles
The Beatles
The Beatles
The Beatles
The Birds
The Hepstars
The Hollies
The Kinks
The Kinks
The Kinks
The Lollipops
The Lollipops
The Lollipops
The Lollipops
The Lollipops
The Lollipops
The Mascots
The Namelosers
The Pretty Things
The Rolling Stones
The Rolling Stones
The Rolling Stones
The Rolling Stones
The Rolling Stones
The Rolling Stones
The Searchers
The Seekers
The Shadows
The Shadows
The Shanes
The Small Faces
The Supremes
The Walker Brothers
The Who
Tommy Blom
Tommy Blom – Tages
Torben – Lollipops

Unnumbered Set 3 Group 3 Checklist
Annaabee-Nox
Annaabee-Nox
Batman
Beach Boys
Beach Boys
Benny – Svenne
Benny o Svenne
Berry and Paul Ryan
Bill Wyman
Bob Dylan
Brian Jones
Cassius Clay
Charlie Watts
Cher
Chris Andrews
Cliff Richard
Dave Berry
Dave Davies
Dave Dee, Dozy, Beaky, Mick o Tick
Dave Dee, Dozy, Beaky, Mick o Tich
David i TV-serien U.N.C.L.E.
Dee-Jays
Donovan
Donovan
Donovan
Dusty Springfield
Elvis Presley
Elvis Presley
Elvis Presley
Elvis Presley
Elvis – Priscilla
Fabulous Four
Family Four »RCA«
Fantomen
Fantomen
Freddie and The Dreamers
Friends
Gary – The Walker Brothers
George
George o Pattie
Gonks
Gitte
Graham Nash – The Hollies
Hep Stars
Hep Stars
Hep Stars
Hepstars
Hepstars
Herman
Herman
Herman´s Hermits
Hi-Balls
Hootenanny Singers "Polar"
Hootenanny Singers »Polar«
Hootenanny Singers
Hounds
James Bond
Jimi Hendrix Experience
Joan Baez
John – The Walker Brothers
John Lennon
Jokkmokks Jokke »KARUSELL«
Keith Moon
Keith Richard
Kinks
Lee Majors
Leekings
Lennart – Svante i Shanes
Lollipops
Los Comancheros
Lovin´ Spoonful
Manfred Mann
Marianne Faithfull
Mascots
Mascots
Mascots
Mats Olin
Mick Adory
Mick Jagger
Nancy Sinatra
Ola & Janglers
Ola & Janglers
Ola Håkansson
Ola Hammarlund
Panthers
Paul – George
Pekka Langer
Peter and Gordon
Peter Quaife
Pinkerton´s Assorted Colours
Plommons
Ray Davies
Ringo – John
Robert Fuller
Robert i TV-serien U.N.C.L.E.
Robert o David i U.N.C.L.E.
Scott- The Walker Brothers
Shakers
Shanes
Small Faces
Sonny & Cher
Sonny and Cher
Sonny and Cher
Sonny and Cher
Spencer Davis Group
Spencer Davis Group
Spotnicks
Stålmannen
Stålpojken
Sten & Stanley »Decca«
Stoke Sect
Strangers
Svenne
Svenne – Hep Stars
Sven-Erik Magnusson
Sven-Ingvars »SAEP«
Tages
Tages
Tages
The Animals
The Beatles
The Beatles
The Beatles
The Beatles
The Beatles
The Beatles
The Beatles
The Byrds
The Downliners Sects
The Fortunes
The Hollies
The Hollies
The Kinks
The Kinks
The Lollipops
The Lollipops
The Lovin' Spoonful
The Mama´s and The Papa´s
The Merseybeats
The Mindbenders
The Moonlighters
The Nursery Rhymes
The Overlanders
The Rolling Stones
The Rolling Stones
The Rolling Stones
The Rolling Stones
The Rolling Stones
The Rolling Stones
The Small Faces
The Small Faces
The Swinging Blue Jeans
The Tremeloes
The Troggs
The Troggs
The Troggs
The Troggs
The Walker Brothers
The Walker Brothers
The Who
The Who
The Who
The Yardbirds
Thor-Erik – Tommy i Shanes
Tom Jones
Tommy Blom
Tommy Blom
Unit 4 + 2
We Four
Winnetou

---
Dutch Movie Star Gum Cards Sales List
Dutch Movie Star Gum Cards Checklists | Movie Card Website Front Page